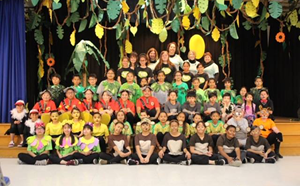 Newhope Elementary School kicked off GGUSD's Disney Musicals in Schools season a few weeks ago! This is Newhope's first year participating in the program and they put on an amazing production of The Jungle Book! "YEAH MAN!"  #ChooseGGUSD
Principal's Message
Dear Parents and/or Guardians,
Welcome to the 2018-2019 school year!  I am excited to begin my sixth year here at Newhope Elementary School. We are enthusiastic about the new school year and are looking forward to continuing to provide your kids with the highest quality education. The facility modernization project is finished and the campus looks great! Plumbing and electrical upgrades were made throughout the school as well as numerous additional improvements to our buildings and campus. We appreciate the patience and understanding the Newhope community demonstrated during the modernization process.
We are committed to your children's success in school.  Specifically, as a staff we will strive to move our students toward attaining proficiency in the new Common Core Standards.  These standards represent a significant change in our approach to the grade level curriculum. I am confident that we will continue to provide your children with a superior education through the Common Core standards. Please do not hesitate to call our office should you have any questions.
Adam Bernstein, Principal
Our School
Welcome Newhope students and parents!
We are proud to begin a new school year with our 400 students as we launch yearly activities and enriching educational experiences! 
Our PTO is in charge of meeting monthly and organizing fundraisers and book fairs. They are also responsible for various events, such as the Father-Daughter Dance, family barbecues and community gatherings. Parents also work selling t-shirts to promote school spirit as well as gathering funds for activities. 
Newhope has many after-school programs that enhances our students' learning experiences, including:
Intervention is available for reading and math. Teachers and students review class content and complete homework together. Educators strive to guide our students on the path of success by taking the time to ensure comprehension for the mentioned subjects.
Our after school computer and art classes embrace the arts and the sciences one session at a time! Students in the computer course learn how to code and ways to implement it into the world. They also study the importance of digital literacy. In our art classes, students are given the opportunity to express themselves and their inner creativity. Projects consist of paintings, sketches, and hands on creations.
Our Boys & Girls Club is held every day after school to explore the meaning of friendship and on-campus involvement. Students interact with each other and with other schools in sports games. Homework help is also provided for our scholars, so they may go home ready to rest after a long, productive day.
Our awards and incentives for students serve as the highlight of our academic celebrations. We conduct the Star Student Assembly, where students receive good behavior certificates. Teachers pick two candidates per class to be awarded. We also have the Trimester Awards Assembly, based on report cards. Students receive academic awards for report cards, improvement, citizenship and attendance. Additionally, Newhope awards the Hundred Mile Club Certificate, which is given to students for every 25 miles they run. By the end of the school year, 100 miles is the ultimate goal.
This year, students will embark on exciting adventures that we are happy to provide. Please join us at our upcoming events! Our events are:
The Cinco de Mayo family barbecue will be on May 4th.

Our parent education meeting on social media will be on April 24th.

Newhope's annual "Poetry Out-Loud" competition will be on June 7th.

The Dare to Dance Assembly will be on May 11th.

Our sixth grade science camp will be from May 29 to June 1st.

Additionally,

 sixth graders will field take a trip to UCI on June 8th.
Our

 third graders will go on their field trip to Bolsa Chico Wet Ones on April 13th.

The four

th grade class will go on their field trip to SanJuan Capistrano Mission on April 17th.
Our fir

st graders will go to their field trip at the LA Zoo on May 10th.
Be sure to reach out to your child's teacher through Class Dojo or email!  Engaged parents are critical to student success.
Please feel free to stop by the office for questions, comments and concerns. We look forward to making memories and teaching our students to be the best versions of themselves this school year!